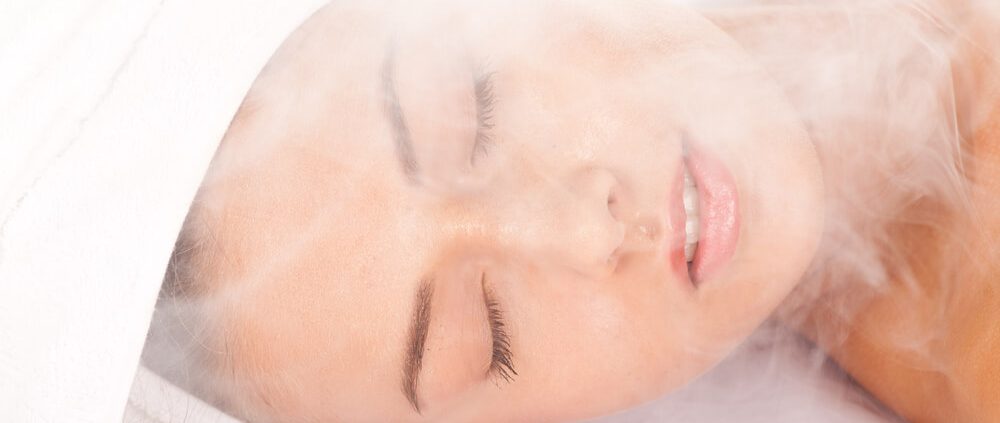 If you have long been searching for a holistic guide on how to take a steam facial at home, your search ends here. We will provide you with a step-by-step guideline on steaming your face at home without spending your money at expensive salons and spas.
Not only that, but we will also share the things that you need to follow before and after steaming your face. Some risk factors are associated with the process; we will also warn you of those factors and share the most effective ways to avoid them.
Read this article down to learn about the two most common and effective ways of steaming your face at home with minimal effort and cost.
10 benefits of face steaming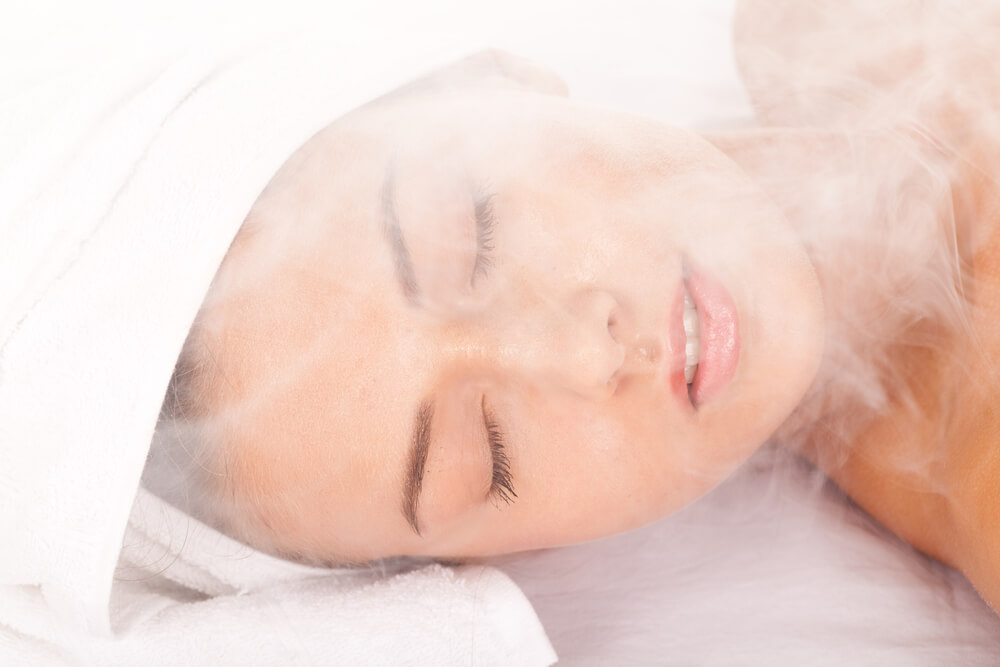 Steam facial comes with many benefits to your body. It not only improves the overall health of your facial skin and makes it look younger, brighter, and healthier but also gives your muscles and blood vessels a general sense of relaxation. In the following, we describe the ten most important benefits of steaming your face at home:
It's cleansing
Steam unfolds your facial skin pores and assists loosen up any piled-up dirt for deep cleansing. Also, this opening of pores softens blackheads, thus making it easier to get rid of them.
It promotes circulation
The warm steam and increased perspiration work in conjunction to dilate your blood vessels, causing a higher blood circulation speed. This higher blood pressure delivers oxygen to the skin faster, which provides nourishment. As a result, you get a radiant, healthy, and natural glow.
It releases acne-causing bacteria and cells
The opened pores allow the exit of bacteria, dead dermal cells, and other toxic impurities that result in acne by clogging the pores. Once these harmful beings leave your skin, it starts glowing effortlessly.
It releases trapped sebum
 Sebum is a naturally present oil that the sebaceous glands secrete to lubricate your hair and skin. When sebum gets entrapped under the surface of your skin, it makes a breathing environment for the bacteria, which ultimately leads to blackheads and acne.
It's hydrating
Who won't know how important it is to keep your skin hydrated. Steam does the job of hydrating your skin by enhancing oil production, thus moisturizing the face naturally.
It enables your skin better absorb skincare products
Steam enhances the skin's permeability, helping it absorb the topicals better. It implies that you can harness more benefits from applying skincare products after steaming your face.
It promotes collagen and elastin
 Elastin and collagen are the key components of facial skin. The faster blood circulation resulting from steaming the face improves elastin and collagen production. Thus, the result is younger-looking, healthier, and firmer skin.
It's soothing
 The steam facial provides you with a soothing sense of relaxation. For added benefits, you can also put some relaxing scents using essential oils or herbs for aromatherapy to make the most of your steam facial.
It helps with sinus congestion
Steam also helps relieve headaches and sinus congestion, which often accompany each other. Adding certain oils to the steam can multiply the benefits of this facial.
It's affordable and accessible
What if you get the most beneficial therapy for your skin by spending only a little money? We feel your excitement!
To take a steam facial, you need not spend your hard-earned money in salons and spas. You can enjoy the benefits of steaming your face at home with the most accessible and affordable items.
Possible side effects and risk
 Steam can result in severe burns, so you should always maintain a safe space from the steam source. If you take the steam facial with a damp towel, you better have the towel warmer and not hot.
If you have some skin complications such as rosacea, you can consider skipping the steam facial as the heat widens the blood vessels, which causes redness.
Although steaming results in skin hydration, people having eczema and very dry skin should take extra care. Restrict the steam sessions to only a few minutes to prevent irritation.
So, if you take care of the factors mentioned above, you can benefit from the soothing and surprising results of a steam facial at home.
What to do before a facial steam
The first and last thing to do before steaming your face is cleansing. If you go for steaming your face without having it cleansed first, you will fail to see the results it was expected to offer. To cleanse your facial skin, you can follow one or both the steps stated below:
Cleanse your face using a DIY cleanser (for instance, honey facewash), natural gentle soap, or a soap-free cleanser.
If you put on makeup, you should certainly apply a makeup remover. But if you don't, you may consider the following things:
If you come from relatively dry climatic conditions or have dry skin, you can even consider this step of cleansing altogether.
If your skin is oily, you should wash your face to get extra oil on your face removed.
Once you have ensured that no makeup is on your skin, the next step depends upon the texture and nature of your skin. So, it would be best to keep in mind what works for your skin and what does not.
After carrying out this step, you can now steam your face by whichever method you like, i.e., a DIY steamer or a face steaming machine, both of which we will proceed to describe later in this article.
What to do after steaming your face
 Like the steps to follow before steaming your face, there are certain things that you better follow right after the steam facial to seal the benefits it provides you. You can take five steps after a steam facial, depending upon your skin type. We proceed to enlist those five steps down in sequential order.
Gentle exfoliation (optional)
Although many people like to exfoliate or scrub prior to steaming, you will see better results if you reverse the order, i.e., to do it after steaming your face.
The reason behind doing so is that the impurities and dirt loosen up due to steaming. So, the scrub removes the junk afterward more efficiently.
However, be extra cautious about the scrub choice you decide to apply. As your skin has now become highly supple, a rough salt or sugar scrub will irritate your facial skin.
So, it would be best if you went for mild and gentle products instead. For that matter, you can also use oat flour combined with water as it does not cause any physical abrasion. Moreover, you can safely go for some chemical exfoliators, for instance, alpha-hydroxy acids. You can buy these scrubs from the store or make them at home. You can also use goat milk containing lactic acid in a reasonable quantity.
 Now that you have carefully cleansed your facial skin, your next step is to apply a relaxing face mask. Decide the type of mask you put on your face after considering your skin type. For instance, you can go for the following choices:
Apply a clay mask if you have an acne-prone and oily skin type.
If you are willing to offer your skin some extra nourishment and hydration, put on a sheet mask.
If your skin appears dehydrated, opt for some good-quality cream masks.
If you are willing to get rid of dead skin cells with the ingredients such as alpha hydroxyl acids, choose some good quality exfoliating masks.
Use a toner (optional)
Applying toner is also an optional step. Toners come with various benefits, such as keeping the skin PH in check and, in some instances, working as an astringent (tightening pores and drying the oil out).
However, toners do not always work for everyone, no matter how helpful they appear to make the skin healthier. So, most of the time, toners are not an essential part of many people's daily or weekly skincare regime. So, you are all good to skip this step if you want to be on the safe side.
If you choose to apply a toner after steaming your face, then the most recommended products for the purpose are the plant hydrosols, for instance, peppermint water or rosewater.
They are gentler than alcohol-containing toners, which are highly irritating when used immediately after steaming your face.
Finish off with a serum and moisturizer
 The last step to finishing your post-steaming rituals is to lubricate or moisturize your facial skin. You can moisturize your face by putting on your favorite moisturizer (for instance, vitamin C serum) and then following that with your regular moisturizer.
If you do not apply serums, you can only opt for your favorite moisturizer and skip the serum.
In both ways, as mentioned above, a good quality moisturizer is compulsory, be it cream, lotion, or natural oil (such as jojoba or almond oil).
So, we can carefully deduce avoiding high chemical products from the description of the products mentioned above. Instead, opt for some natural and simple skincare products.
How can I steam my face at home?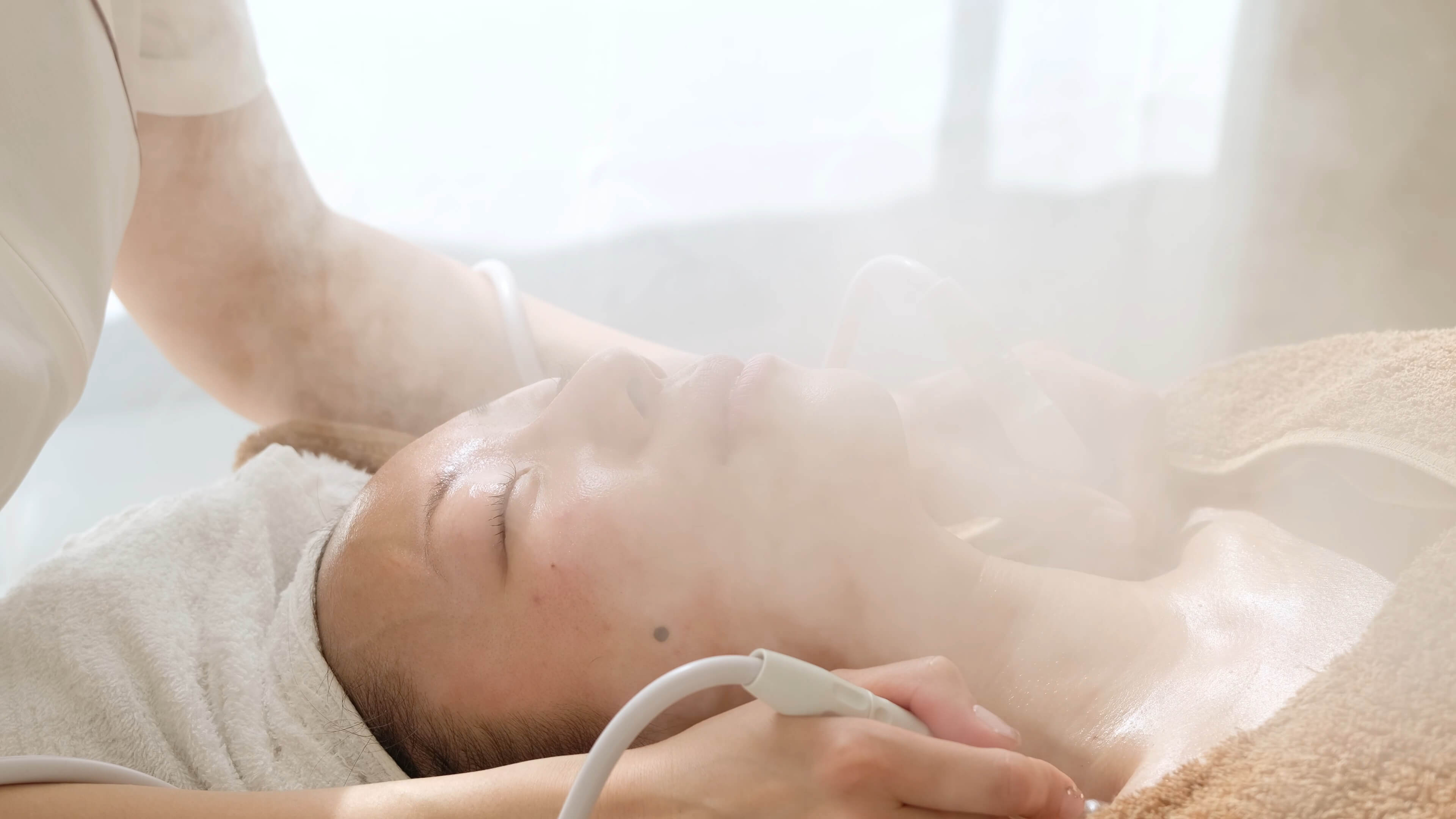 There are two useful ways to follow to steam your face at home. These methods include steaming your face with a DIY steamer or a market-bought steaming machine. You can read the description down and decide which one works for you. Both are equally effective, choose the one which you find convenient.
Facial Steaming Machine
This machine provides you with a spa treatment on the premises of your home without bringing you out of your comfort zone. And, of course, without spending too much of your hard-earned money.
These facial steaming machines are pretty straightforward to use: you fill up a water tank with water, which then releases steam via a nozzle. As easy and simple as it sounds!
When using a facial steaming machine, you should make sure to sit almost eight to twelve inches away from the steaming source to avoid getting mild skin irritations or severe skin burns.
To add further, you can keep a towel on your head to entrap more and more heat to make the most of the steam facial.
DIY Face Steamer
If you do not want to purchase a facial steaming machine, you can alternatively use any suitable and medium to large-sized ceramic or glass bowl to carry the water. We need not keep reminding you to take all the possible precautionary measures when dealing with boiling water.
We proceed to describe some basic things to take care of when going for a DIY facial steaming machine:
Fill up a medium-sized kettle, saucepan, or pot with water. To get the maximum benefits, use filtered or distilled water to avoid getting any pollutants or impurities by using tap water.
Remove the water from heat once it starts boiling.
Put a large ceramic or glass bowl (not plastic) over the top of a cork mat or a folded towel.
Pour the water down into this bowl.
Sit down, keeping your face right over the bowl, almost eight to twelve inches away.
Wrap a towel around your head in a way that it makes a tent to assist trap in heat. If you can't breathe comfortably due to the intense heat, you should remove the towel.
Stay here for about five to ten minutes with your eyes closed.
How long should I steam my face?
 You can grab the best results if you steam your face for about five to ten minutes. Do not exceed ten minutes as it can overheat your skin, making it red and dry out.
Bear in mind that the steam widens your blood vessels; thus, the higher blood flow towards your skin can have serious consequences if you expose your face to steam for so long.
To add more, exposure to hot water and high temperature for a long time can cause dryness of your facial skin. So, you got one more reason not to overheat it.
In the end, if you have a steam facial for the first time in your life, you should examine your skin after two to three minutes of steaming. If you notice no sign of irritation or redness of your skin, you can now comfortably go for the process for about ten minutes.
How often should I steam my face?
It would be best not to do steam facial more than once a week to gain the maximum benefits. Although steaming your face hydrates your facial skin, excess of it will leave the opposite impact on it. So, the ultimate target is to have a careful balance.
Like all the other things, too much steaming will surely lead to complications. Also, keep in mind this is an intense procedure, and hence, you should do it sparingly.
So, keep the frequency of steaming your face to only once every week to get the maximum benefits of the treatment. Moreover, restrict every steaming session to about five minutes only so that your skin does not get to suffer from any irritation.
Related questions about what to do before and after steaming your
 Does steaming help acne scars?
As steaming your face brings more blood and nutrients to your skin, theoretically, it plays a vital role in fading away acne marks. However, you can only avail the fruit of this benefit if you eat a nutrient-rich diet that nourishes healthy and radiant skin. Also, the impact of steam facial on acne marks is most likely to be minute because many people hardly steam their faces yet do not develop any scars.
How can I open my pores without steaming?
 While steaming your face does not open up the pores technically, it still manages to soften the uppermost layer of the facial skin. To gain the same advantage without undergoing steaming, you can go for quick steam with the help of a face towel. If you want to do this, just:
Soak a clean and soft face towel in hot water
Squeeze the water out and then spread the towel carefully on your face so that it covers your whole face
When you feel that the towel is cooling down, soak it in hot water again
Repeat this process many a time for almost five minutes
Conclusion
Steaming is a skin treatment of the face that skincare professionals like aestheticians typically perform. This is so because you can't safely go for most skincare therapies at home. Anyhow, you can also enjoy the benefits of a steam facial at home with the help of a warm towel or a steaming machine without spending very much.
As true for all other skincare treatments, you should not overdo steaming. Taking steam once a week would be great. Moreover, cleanse your face before steaming, and then a mask or/and scrub. In the end, use a soothing moisturizer as the concluding step.
Do not forget to make the most of the steam facial by using supplements such as fruit peels or essential oils.
Hopefully, this article has answered all your queries regarding steaming your face! Now, what are you waiting for? Gird your lion up and take your steam facial at home. We cannot see you benefit from what we have brought here for you!
https://www.tolosauna.com/wp-content/uploads/2021/12/this-sauna-is-full-of-steam.jpg
667
1000
Tracy
https://www.tolosauna.com/wp-content/uploads/2017/12/logo.png
Tracy
2021-12-08 02:48:01
2021-12-08 02:48:01
A Complete Guide On Steaming Your Face