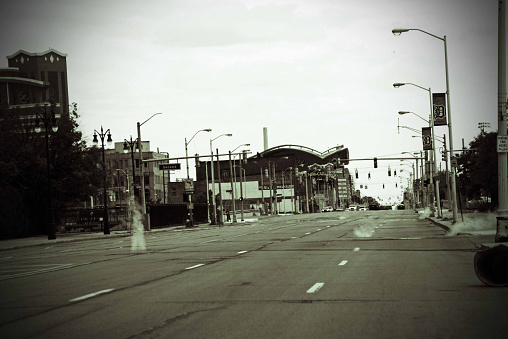 Some places of the world have a magical power of capturing your imagination instantly and entirely and, the Schvitz, in Detroit, is one such place in the world. It was opened back in 1918 for the Jewish community of the city.
Its building was modified letter in 1932 include a steam room and a pond. In this way, it was among one of the five bathhouses in the city called Oakland Health Club. More interestingly, this building has undergone renovations multiple times. Renovations were the tools to regain attention and meet the goal of capturing the attention of tourists and visitors. Which, at last, came true. It is now a major tourist destination.
In later decades, it served the city's North End mainly for eastern European and Russian roots. Basically, the Schvitz is a Yiddish word that means to perspire or sweat. The facilities and steam room itself were only for the use of men, but there was a day exclusive for women use every week.
Besides everything else, the main steam room and the pound are the major tourist attractions. People love spending time there, enjoying baths, dining, and having a good family day out. Knowing the undeniable benefits of steam baths, they hugely rush towards it. A steam bath not only has the potential to improve physical well-being but casts a positive and healthy impact on mental health as well. What else are you waiting for?
 Colorful History of the Schvitz
More appropriately, the Schvitz has a colorful history. The Detroit Historical Society declares that the Purple Gang was very active in the 1920s to 1930s and successfully controlled all the underworlds of Detroit including the liquor, gambling, and drug trade. To add more, in 2017, a man named Paddy Lynch, fallen in love with all the healthy restorative kind of qualities of the steam room and bought the run-down building.
Under the supervision of Paddy Lynch, this building has undergone a lot of physical renovation, but importantly, e it has attained a status as a public place where taking single steam leads to lasting friendships and deep conversations. You will find a lot of offerings just like "Bubble Schmeisis" klezmer music played melodiously by playwright and performer Nick Cassenbaum and storytelling, and various workshops like Introduction to Bodywork and Restorative Massage instead of the "couples night."
At the same time, also keep in mind that the plunge pool and the steam room are still the main attraction for tourists. Many people who are lovers of Schvitz are of a viewpoint that it is the only e institution of its kind that is left in the city now.
The gradual development of the Schvitz, Detroit
The act of restoring the entire building was a great deal. These days, it's a magnificent building when compared to what it once was. All the art of detailing that once was covered up or buried has now been polished. Simply it has now restored its look in a fantastic way.
The carpet dates back to 1975. Even nobody knew you that but was underneath. When explored, it was found that underneath was a black and white chequerboard tile floor that had been there since most 1930. It gave an enchanting look to the floor. When we took out the dropped ceiling, we found there that there was a glorious tin ceiling. We embrace the bitter history of the Purple Gang, the drugs, the swingers, and all other kinds of illegal activities, but it was the past These days, we call it folklore.
When we talk about the exterior of the building, it still looks like a beautiful boarded-up building, and we really like it the way it is. And there is no offense, as soon as you are going to open the front door of this master of arts, it is a beautiful and dreamy kind of palace.
And after the years of renovation, it has not become a place for our people to gather and unwind. The management of Schvitz has successfully what in people from almost every walk of life. This building now holds everything from album release parties, art gallery exhibitions, and the historical society. Prohibition of tolls is because of the Purple Gang. Netflix is also available there. The producer, and the entire crew have once visited for shooting for an episode of the famous show called "Ugly Delicious."
 The steam room itself
The steam room of Schvitz, the Detroit, was built in 1930, and it was totally inefficient. The thing that makes stream actually so good is an old-school, eastern European method of making use of rocks that hold it for a long period. To heat this steam room, seven tons of rock are heated. Every single rock weighs about 35 to 50 pounds.
A big-sized adjacent closet contains all these rocks. These rocks are suspended with a metal great under which there is a gas burner. These rocks are heated for five hours every day, and then the boss of the steam room is opened for people. These rocks are never heated directly at a high temperature, but they go from hot to hotter. It is an inefficient way of hitting a steam room.
After periods of heavy usage, sometimes rocks need to be replaced. In order to do this, the management manages to remove all the seven tons of rock from the closet and replace them with the new and good ones. They lift them upstairs and get them out.
Final Thoughts
The steam room of Schvitz, Detroit, is a dream place for enthusiastic global tourists and locals. It is an all-rounder kind of public spot as its building itself is evidence of art, steam bathrooms are a source of real fun and a better living, a lot of events are held there to offer a golden and memorable time out. Consider visiting the site to explore much more about the globally famous location for a better experience.
https://www.tolosauna.com/wp-content/uploads/2021/12/steaming-in-Detroit.jpg
339
508
Tracy
https://www.tolosauna.com/wp-content/uploads/2017/12/logo.png
Tracy
2021-12-16 20:00:51
2021-12-15 11:09:00
Old-School Steaming in Detroit - An Entire Approach