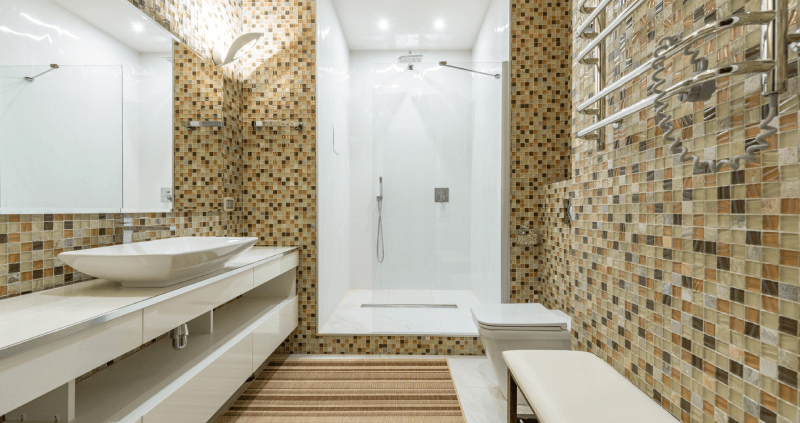 Undoubtedly, it is a natural behavior of human beings to make things impressive and catchy by fantastically styling them. And bathrooms are also an essential inclusion of houses that add to their luxury. That is why people spend a considerable amount of money and invest time in them as well.
While talking about a well-established and luxurious bathroom, how can you even miss a shower bench out? Stop if you have been searching for the appropriate Shower Bench Dimensions and size. You have landed on the right page. In this article, we are going to elaborate on every possible aspect of it. Please read it all to get the entire information.
What is a shower bench?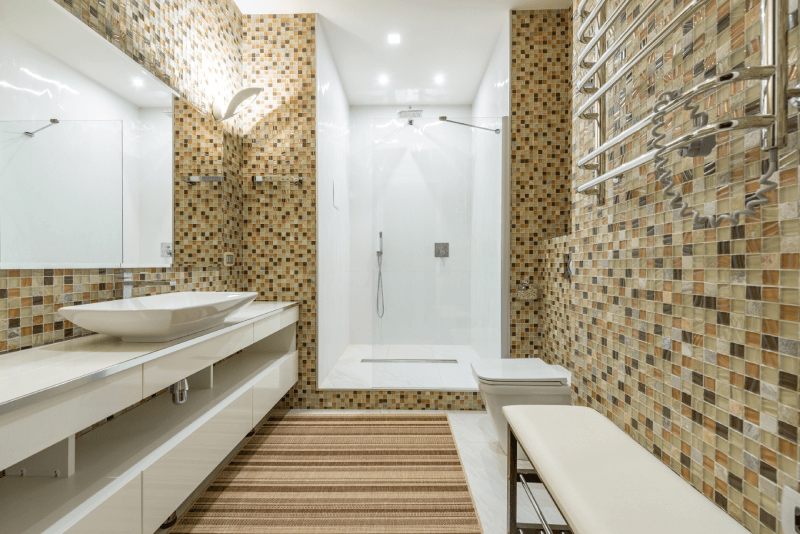 Anything like a bench or seat that lies inside your shower and is meant to let you sit while enjoying the extra pure rain is referred to as a shower bench. Technically, a shower bench can be composed of any model or material. On a straightforward approach, a low-quality old plastic stool that you use to be in the backyard can be a shower bench.
A shower bench will be placed inside your shower that will be constantly exposed to direct water. Because of this reason, good shower benches are those which are made of water-proof material. They are much easier to sanitize and clean. Some models of shower benches make use of a series of wooden planks that are varnished appropriately to resist moisture. However, most of them are generally built into the walls of the bathrooms. They are covered with the same tiles as shower walls in most cases.
How to choose the right shower bench dimensions?
Whenever you are planning for an appropriate shower bench, you must keep in mind the following two undeniable characteristics for better results:
Firstly, the entire size of the shower.
Secondly, your comfort level while sitting on the shower bench.
Long story short, the size of your shower bench speaks itself. If you choose a built-in shower bench, it must be small enough to fit inside your bathroom. To add more, it should be sized so that it allows you to stand erect just next to it when you are closing the door. But, having the sliding doors will be the best choice to make in this regard.
As long as the shower bench fits inside your shower, it would be best if you weren't concerned about lacking your shower space to shower bench. The majority of the shower benches are small enough that they won't even get in the way of your arms and elbows when you have a shower. Once enough space is left there for you to stand comfortably, you'll be good.
In the following approach, you should plan to figure out an appropriate depth, height, and width of your shower bench:
If we talk about the depth of a shower bench, it would be the only measurement subjected to a type of regulation. According to the criteria set by the Americans with Disabilities Act, shower bench depth should be about 14 to 15 inches in measurement.
If you have enough space, you may also plan to add some separate footstool, which is more likely to double as a step for children in the house. Generally, footstools are about 10 to 13 inches in measurement.
When you are measuring the height of your shower bench, aim for a height that is an inch below the backside of your knees. Or, you can also choose a height that equals the knees of a short person who will share your bathroom with you. Typically, the shower bench height should be about 17 inches.
It would be best if you chose the only width of your shower bench that is enough to fit your buttocks. If chosen right, you will be able to sit comfortably without the fear of sliding on the side. On a simple note, a width ranging anywhere between 10 to 20 inches will be the best choice to make.  
Why should I have a shower bench? 
If you still can not decide on including a shower bench inside your bathroom, spare a few minutes in considering its uses and advantages. Usually, shower benches are necessary for households or families where someone has a physical disability or problems with mobility. In these circumstances, they can offer you an invaluable contribution to everyone's independence as well as safety.
Now, even if you do not have any physical reason pushing you to use a shower bench while you shower, you can reap additional comforts with luxuries from a shower bench.
A shower bench generally provides an easy-to-reach and extra shelf space inside the shower. It lacks corners and wires of regular shower caddies. They lie below eye level, so you can easily spot the dirty corners more quickly than being on a standard shower caddy. So, shower benches are much more sanitary and easier to clean. If professionally built, they won't leave room for mold to develop inside your bathroom.
As per your shower model, a shower bench can provide extra space underneath. You can wisely use this space to hold your sponges, loofahs, or collection of various scented body wash that you like using.
Assisting with personal grooming 
If you like exfoliating or shaving your legs, a shower bench will assist you in doing it more comfortably. In this way, you need not be standing on the floor or using the toilet as a footstool to reach every spot behind your calf.
If you plan to have a hydro massage shower, you can not enjoy full advantages without a shower bench. So, a shower bench will allow you to sit and enjoy a much longer steam session and more extended massage.
DIY Shower bench construction 
You can purchase a shower bench for yourself, but it costs a lot. You can also make yourself a shower bench at home. To do so, follow the below-mentioned steps:
Step 1: Figure & select the shower dimensions 
While making a DIY shower bench, you can never ignore figuring and selecting the shower bench dimensions. Note these measurements in your diary, and don't lose them to get the professional outcomes.
Step 2: Cutting the floor & marking the measurements
Using the measurements, start cutting the floor. According to the width, cut about 1/8 of the floor. In this step, you need a grinder. Be careful while working with a grinder. Do not forget to use gloves and a mask for your protection.
Step 3: Frame the shower bench 
If your shower bench dimension is 2×4, consider putting the 12″ on the center and about 17 to 19 high. Frame it in the place. Make use of a nail gun to connect these 2×4s. As an alternative, a deck screw can also be used.
Step 4: Make the framing level
Assure the leveled framing that is not uneven at all. If needed, you are supposed to shim it. It would be best to level the floor before installing a shower bench. If you want, you can add tiles as well.
Step 5: Make the seat
After completing the above process step by step, it is time to anchor the shower bench seat. Now, block out the backer board too. You can use wooden blocking for the seats. By following this measurement, add a 2×4 ledger on the seat. Assure it lies just behind the framing.
Step 6: Put plywood 
Apply the liquid nails on the top of the bench. After doing all this, screw in a 3/4″ plywood. Make sure that you have tightened all the screws very well.
Built-in shower bench pros and cons 
So, for now, after reading the entire article, you are aware of the shower bench dimension, size, and step-wise process of constructing a DIY shower bench for yourself. But have you ever thought of the best shower bench out there?
The answer to this query is simple: various shower benches are superb, including DecoTeak Oasis and AquaTeak Asia, etc. To sum up, different shower benches have different pros and cons. Let's crack them together.
Pros
They give an aesthetic touch to the bathroom
You can store various things on them
While having a shower, you can relax sitting on it
They are convenient for those with some physical disability or injured person
They offer a higher degree of flexibility and comfort to those who are using them
Cons
They consume a lot of space.
They are costly
If purchased online, it becomes challenging to assemble them.
Final Thoughts
Including a shower bench in your bathroom will be a sensible decision as it offers many benefits. And, you need not spend a lot of money buying expensive shower benches for yourself. You can establish DIY shower benches for you at home and style them according to your budget, choice, and personal preferences.
https://www.tolosauna.com/wp-content/uploads/2022/02/shower-bench.png
534
800
Tracy
https://www.tolosauna.com/wp-content/uploads/2017/12/logo.png
Tracy
2022-01-26 16:00:54
2022-02-08 10:44:30
Planning A Shower Bench For Your Bathroom - A Complete Guide