With every passing year, we observe modernization and trends in every field of life. Homeowners also pay attention to their bathrooms to make them more luxurious and comfy. In the same way, many trends are expected in Steam Bathroom Designs in upcoming years. These modern and chic trends will not only make the bathing experience good but also increase the rental value of your property.
If we talk about steam bathroom designs, they are evolving now and then to keep up with the trends. Unlike typical bathroom functions, bathrooms have turned into an appealing spaces these days. You are in the right spot if you are searching for the most expected trends for Steam Bathrooms. Here, in this piece of writing, we will elaborate on the most characteristic trends scheduled for Steam Shower Bathroom Designs for upcoming years. Let's crack it all!
Expected Trends Of Steam Bathroom Designs
With technological evolution, people are striving to tech-enable everything for a better experience. The current Steam Bathroom Designs project towards the following expected trends for upcoming years.
Natural stone
Recessed Light
Walk-in showers
Wireless touchscreen
App control for steam shower
Wall mounted fold-able bath seats
All these expected trends in steam bathroom designs are briefly explained here.
Natural stone
For the year 2023 and onwards, natural stone is considered a prominent steam shower bathroom design trend. This is so because it offers various substantial advantages besides rocking your luxurious bathroom look. A natural stone brings a sensation of individuality and strength and raises value to your home. Besides that, it imparts a distinctive look to your bathroom and increases the rental value of your property. This is so because used materials matter greatly in renovating the interior of a steam bathroom space.
When it comes to the longevity of your bathroom space, Natural stone is the best pick, as moisture and various other elements can not degrade it quickly. If you like underfloor heating, this will be an ideal option as it warms and cools quickly.
Before giving this trend a try, kindly remember that natural stones are porous, so that they won't retain heat like a non-porous ceramic tile or porcelain.
Walk-in showers
If we talk about the contemporary steam shower bathroom designs, walk-in steam shower rooms are the best option to go with because of their accessible nature. To add more, they look appealing in about every bathroom space they are placed in. Most importantly, if your bathroom space is large such options go really well. On the contrary, they are also available in small pieces for small bathrooms to make the things compact.
Interestingly, the magic does not stop here. You can further customize these steam shower bathroom options by blending them with slip-resistant floors.
Steam walk-in showers become a fantastic option if you have an ample space. To elevate the chic look of such showers, you can prefer bright, light colors.
Wireless touchscreen
With the advancement of technology, various manufacturing companies have come up with a lot of tech gadgets that make everyday things extremely easy to handle. In short, they substitute human effort in many fields. A wireless touchscreen, in this way, will give maximum control right a touch away over the steam. As a wireless touch control comes with various customization options, this expected trend will make your experience unmatched.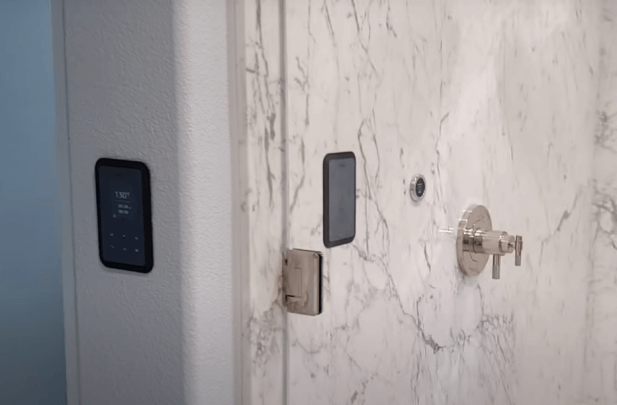 Surprisingly, this touch and wireless control can work within a range of 60 feet from the steam generator without requiring any tethering cable for the purpose.
Besides making the control comfortable and easy, a touch screen will allow you to alter the look and design of your steam shower room by controlling aromatic infusers and chromatic lighting. To add more, this system will make the process more quick and more responsive. You can create multiple profiles with different custom settings according to your personal preferences.
When it comes to the installation of a wireless touchscreen, it is flexible. You can mount the screen on any hard surface or make use of a Flush Mount Kit on the wall of the steam shower room.
App control for steam shower
Things become more and more enjoyable to use if you have the whole control system in your hands. In this way, being able to control the steam shower will enhance your bathing experience. By making use of a mobile device or a smartphone, you will be able to adjust the temperature, set the duration, and start a steam shower.
An app will allow you to personalize your personal preferences anytime, anywhere to ensure you are always on the go and comfortable with this pro bathing experience. Using this app, you will be able to select all your preferences just by using a single application using your mobile device. Not only it makes the control of the setting easy, but it also develops a sensation of authority over a system control. In this way, you can make all your favorite customization by sitting on a sofa or lying on the bed without the hustle of visiting the steam shower room for this purpose. Isn't it amazing?
Wall-mounted fold-able bath seats.
During cleaning, wall-mounted foldable seats are very comfortable as seats lying on the ground can be a hurdle in the purpose. For older adults or people with discomfort, such seats are very easy and safe to use for a bath. This is a good option as you can fold it when you are not using it. Such folding seats will save much space as compared to other options. On the other hand, such seats are designed with smooth surfaces that make them more comfortable.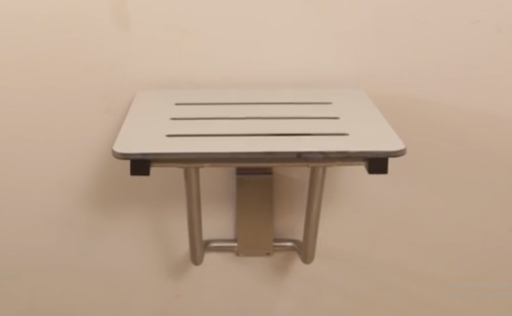 You can also make a selection from a wide range of seat finishes and styles. Among these styles, the most important ones are brushed nickel, polished chrome, and satin brass.
If not all, most of the wall-mounted seats will suit any contemporary steam shower bathroom design without overwhelming the aesthetic touch.
Recessed Light
The installation of recessed lights in your steam shower bathroom space is a bare blend of functionality and style. No one can deny the power of lights that can alter the whole vibe of any space. A recessed light will bring a modern and clean look to the bathroom, making it very easy to relax and take a bath.
Another plus point regarding these lights is that they do not have any installation restrictions in comparison with traditional light fixtures mounted in the ceiling. Besides other options, you can conveniently install them over the mirrors, in shower stalls, and in showers.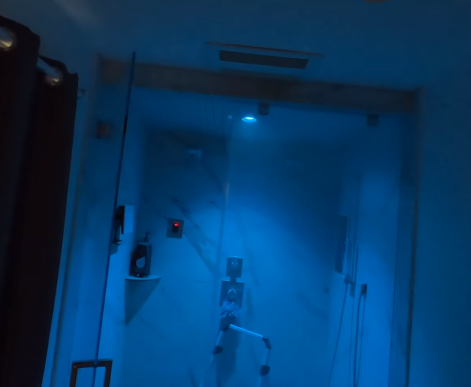 Besides all that, you can personalize the recessed lighting that suits better to your steam bathing experience. For instance, ambient light mimics natural light and is an ideal option expected to be trendy in upcoming years. To eliminate artwork and architectural details, a recessed light is the best option to go with.
Which steam shower design trend is worth trying for you?
Different designs become trendy because of the value they add to the customers' lives and how they make life easier for the users. So, additional items can cater well to your needs. If you want to add an aesthetic look to your bathroom, you can do so by adding natural stone. To make the cleaning process easy, wall-mounted folding seats are the best pick, as you can fold them back once you have used them. Also, they make it very easy to use for older adults or individuals with some health complications who need to sit while having a steam shower session in their steam shower bathroom. Light therapy and chroma therapy are the best options if you want to relieve your stress after an utterly hectic day.
Choose the trend that can cater to your needs and works for you. As mentioned above is a list of expected trends that are most probable to rock for the upcoming years.
Final Thoughts
Trends come and go; only those that help people meet their particular goals stay. So, for the upcoming years, these are the most expected trends. You can go for the ones that make things easy for you or minimize your effort of controlling systems. But, besides the benefits of movements, look at their dark side as well before making a final decision, as a wrong decision may waste your investments.
This guide was helpful enough for you to make a good selection and investment that won't end up in vain. This is so because the installation of various elements in a steam shower bathroom is meant to increase the luxury and comfort level. So, there is no option to waste money on nonviable things.
https://www.tolosauna.com/wp-content/uploads/2022/04/electric-towel-warmer-TOLO-TR04.jpg
1100
1100
Tracy
https://www.tolosauna.com/wp-content/uploads/2017/12/logo.png
Tracy
2022-11-14 04:04:53
2022-11-14 04:04:53
Which Steam Bathroom Design Trends Are Expected For Upcoming Years